"My Good Day Face" is a Mental series about the feel-good beauty products people use to boost their moods. 
Megan O'Neill can't take a bad photo. Not because she's 23, because she's actually 38. Not because she's a beauty editor, because she rarely wears a full face of makeup. Partly because she is strikingly chic, her style an impossible mix of hipster and boho and couture all in one. But mostly because, in every photo, she is just so very much herself.
"You can be your purest, truest you when you feel real—and skincare and makeup can be brilliant tricks for getting to that place," she says. When I ask her opinion on how exactly beauty and fashion can affect mood, she doesn't offer a stock response. Instead, she tells me about meeting her husband, Jesse Bull.
"I'll never forget how I looked the night I met him at a bar on Avenue A," says the Brooklyn, New Yorker. "I was straight out of a Missy Elliot music video: baggy boyfriend jeans with one leg rolled up to the knee, revealing a vintage-y rolled-up tube sock; bushy, faux-fur flea-market coat slung over a strappy Chloé tank with a glittery scorpion emblazoned front and center; my hair sectioned into gently mussed bantu-knot buns all over my head.
"Most likely I looked ridiculous, but I felt perfectly, beautifully, authentically, flashily like myself, and so I moved around with ease. I'm sure the way I carried myself had everything to do with how successfully the night played out—not just in terms of meeting my future husband, but that I danced and laughed and stayed out late having an incredible time.
"Beauty products and clothes are a means of self-expression, and being able to emote in that way—adding a subtle cat-eye flick, smoothing on the gleamiest red lip, wearing your hair in a thousand silky braids—is powerful."
The Goop associate beauty director—who previously worked at Elle and (RIP) Lucky—believes in another power, too: the power of being present, a lesson she unfortunately came to the traumatic way. "My mother-in-law recently died of pancreatic cancer. It was a brutal death, and it turned on something in me; I sort of didn't realize that people I know and are close to….can die," she says. "The unknowable-ness of death started to give me terrible heart palpitations. I'm in therapy—which I can't say enough about—and I really aim to live in the moment. I try to understand in every moment that this is my one life, that being here is surreal and incredible and wild, and I'm in love with being here. That's helped me climb out of a fiery, energy-leaching stress loop."
When that loop starts to suck her back in, she turns to movement, which she calls a "salve for anxiety." "There is nothing more beautiful than being able to move fluidly. Nothing. On days when I wake up and my chest is heavy with anxiety—over work or the world breaking out into war or racism coming for me and my family and people I love—I remember that I had the heaps of good fortune to be born with legs that work," she explains. "That is just so incredible—to have legs that allow me to go wherever I please. Realizing and loving that cuts through even thick anxiety."
During the week, movement might manifest in a 40-minute yoga or Pilates session in her bedroom. When she doesn't have to be at her computer, O'Neill makes it a point not to be. On weekends, she walks (and walks) around New York City or, during warm months, hikes in upstate New York, diverting potential emotional spirals into "people-watching and just taking in my surroundings, whether nature-y or urban." 
When her mental health feels rough, she's also been known to bust out a pot or pan. "It's hard to stress about the thing that might be going on with a friend when you're focused on preparing a beautiful meal," O'Neill says. For an instant mood boost, there's Miley Cyrus's song, Flowers—"I blast that and I can't not dance and feel good"—or a call to her mom. "When I'm going through something, she gives genius real-person advice and speaks straight."
We promise we'll get to O'Neill's other mood-boosters—those of the slather-on variety—in a minute. But first: Is cupping actually worth it? (See: her back above, with her adorable baby, who turns 2 in April.) "It feels incredible! Like a deep tissue massage," she says. "The cups create suction on your skin to help relieve pain or stiffness (like the kind one might deal with sitting all day for work) and support circulation."
Skin and spirit—fretting together, relaxing together. Getting glowy together! These are her good-day-face faves.
All products featured on Mental have been selected independently and editorially. When you buy from our links, we may earn a commission.
Face Oil
Aevi Face Oil, $48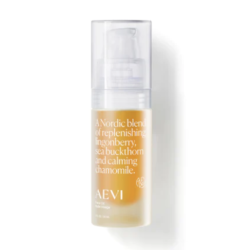 "When my skin is glowing and clean and healthy-looking, I feel on top of the world. I loooove oils and am slathered in them every single day. The face oil from Aevi is gorgeous whether your skin is oily, dry, or somewhere in between. It's this incredible blend of nutrient-packed lingonberry, rose and chamomile flowers, and omega-rich sea buckthorn that leaves skin dewy, fresh, and plumped with moisture."
---
Sheer Lip + Cheek Tint
Balmyard Beauty Baby Love Balm Lip + Cheek Tint in Black Roses, $45

"When I want to add a little warmth to my skin or if I'm going to a wedding, I smooth on the sheer tinted cheek and lip balm in the Black Roses shade from Balmyard. It rules! You need no skill to apply it—just massage a dab onto your skin (anywhere—I even tap a bit across my lids), and it just wakes up your face in seconds. It's gleamy and moisturizing and my little pot lives in my bag year-round."
---
Rosy Gloss
Ami Cole Lip Treatment Oil, $20
"The lip oil from Ami Cole is gorgeous. A juicy nude that's sleek, intensely moisturizing, subtly polishing. The founder is a Black woman from Senegal, and I'm dying to meet her—she makes the most incredible formulas and has killer style."
---
Exfoliating Cream
Goop GoopGlow Dark Spot Exfoliating Sleep Milk, $98
"My absolute secret weapon for breakouts is the alpha hydroxy acid exfoliating Sleep Milk from Goop. It's magic!! Like straight-up magic. You smooth it onto clean skin before bed—and the intense blend of acids (they're time-released and tempered with a moisturizing botanical complex, so they're resurfacing but magically gentle on your skin) goes to work unclogging pores, dissolving dead cells and oil, and brightening your skin so that you wake up positively luminous with zero blemishes."
---
Mega Moisturizer
Goop GoopGenes All-in-One Nourishing Face Cream, $98
"When my skin needs a boost—and when it's frigid out, and it can't seem to get enough moisture—I combine the face oil with the firming supercream from Goop. It's a moisture bomb, and then it's also got all these amazing clinicals for firming, smoothing lines, and toning skin. It melts right in, instantly replenishes, and feels so silky.
"It doubles as night cream, and is the best trick for being on a plane—massage it on in the morning, and it cocoons skin against all the stale, drying recycled air so that you're still glowing when you disembark."
Follow Megan O'Neill on Instagram at @megagirl.
---
MENTAL NOTE: Oh hi there. Like we said above, "My Good Day Face" is a Mental series about the makeup and skin products people use to boost their moods. Yes, there are conflicting studies on whether makeup is good or bad psychologically, whether it can soothe or inflame anxiety and depression. If beauty causes you angst or feels like a form of pressure, step away! We love a beautiful bare face. But if applying moisturizer and lipstick helps your mental state by giving you a routine to follow, acting as meditation, inspiring creativity, or simply expressing your inner human, then: By. All. Means.