Losing your hair sucks. Especially for women, who—unlike guys—aren't "expected" to recede or thin out with age.
Hair loss (officially called alopecia areata) can be triggered by a zillion things—genetics, frequent heat styling, hormonal changes, childbirth, nutrition, autoimmune disease, chemo or radiation treatment, or the hair-pulling disorder trichotillomania—including significant emotional stress. No surprise then that the COVID-19 pandemic has led to an uptick in angst-induced hair loss.
The irony? Presenting yourself to the world with thin, scraggly hair and bald spots can be stressful in itself. As one study put it, "Hair abnormalities can have tremendous psychosocial impacts on…young adults and may cause a great amount of anxiety regarding physical appearance." 
In fact, per a 2014 review published in The International Journal of Trichology, hair loss could even put you at an increased risk of depression.
But right now, instead of trying to tackle shame, anxiety, and impossible beauty standards, how about we cover up thin hair and get out the door? There are many undetectable touch-up sprays (which add color where hair is scarce), tinted hair fibers, foolproof hair extensions, and other solutions that conceal sparse spots and stay put (so no danger of a Giuliani-style hair color meltdown).  
One note: "If you have legit bald spots, sprays are a better bet since fibers need some hair to attach," says NYC hairstylist Sheila Chung, who specializes in clients with hair loss.
Here, our favorite temporary fixes.
Best Spray for Shine and Strength
R+Co Bright Shadows Root Touch-Up Spray, $26
Designed by renowned fashion hairstylists to camouflage regrowth between color appointments, this root color spray offers some benefits others don't. Instead of matte, flat coverage for thin hair, all seven shades are shiny and multi-dimensional. 
A few spritzes makes hair look and feel fuller, thanks to strengthening biotin and pearl extract. It smells fantastic, too, in an upscale blend of bergamot, fig, and cedarwood. 
GOTTA READ: Best Tools to Keep Idle Hands Busy
---
Best Spray for Small Spots or Big Swaths
dpHue Color Touch-Up Spray, $28 
This versatile spray delivers the perfect dose of color to any head of hair. A clever nozzle with two spray settings means you can cover a small, targeted area of thin hair or disperse color more broadly. 
Either way, there's minimal mess and color stays where you put it until wash day. 
Available in six shades.
---
Best Spray to Match Your Hair Dye
L'Oréal Paris Magic Root Cover Up Gray Concealer Spray, $11 
This temporary color spray gives seamless scalp coverage in three seconds, which is just what you want when your next Zoom meeting starts…about three seconds from now. 
The weightless formula comes in eight shades that perfectly match L'Oréal Paris home hair colors. It dries matte (no sticky residue), and won't smudge unless you accidentally run your fingers through it.
---
Best Water-Resistant Spray
Clairol Root Touch-Up Refreshing Spray, $9.97
Shore up thinning areas fast with natural-looking, water-resistant coverage if thin hair that won't budge until your next shampoo. Just spray onto your roots, hairline, or anywhere else that looks sparse, then stow the compact bottle in your bag for on-the-go touchups. 
Available in six shades.
---
Best Fibers to Increase Thickness
Toppik Hair Building Fibers, $24
This unassuming shaker of hair-building fibers is a cult favorite for its magnetically charged keratin fibers that cling to even the wispiest hairs. It creates a surprisingly realistic thickening effect.  
The brand also sells a Hairline Optimizer for creating a believably irregular front hairline, and FiberHold Spray to lock in your style through wind, rain, and sweat. 
Available in nine shades. 
---
Best Scalp Cover Up for Thinning Hair
ColorWow Root Cover, $35
"This pressed powder looks like eye shadow, but it's great for covering grays and precisely filling in thin spots at the crown and hairline," says Chung. Instead of sweeping it on like eye makeup, deposit color by pressing your loaded brush into the scalp. 
The water-resistant mineral powder won't run during your Peloton ride—but without stubborn waxes or dyes, it rinses out easily with shampoo. 
Available in eight colors. 
---
Best Root Cover for Oily Hair or Scalp 
Avon X The Face Shop Root Touch-Up, $18
No spraying or sprinkling necessary—this collab with Korean beauty brand The Face Shop has a neat and easy puff applicator that you gently press into your roots like a stamp to build up color. 
The long-wearing powder absorbs oil like tinted dry shampoo—so an oily scalp won't break down the color pigments. A dose of nourishing Ha-Soo-Oh herb, black bean, and ginseng keeps hair in great shape. 
Available in seven shades. 
---
Best Top Piece for Allover Thinning
The Hair Shop Sherry Top Piece, $120 for 12″

For thinning at the crown or all over, a top piece (also called a topper) is your best bet. "The most important thing is how natural the part looks," says Chung, who thinks synthetic hairpieces are often too dense and shiny to be convincing. "Human hair is a must." 
A too-full hairpiece overwhelms fine hair, so aim to match your natural texture and density. Clipped along the natural part about an inch from the hairline, the small, thin base blends with fine hair. 
Available in 29 shades.
---
Best Clip-in Bangs for Crown Thinning or a Receding Hairline
Hairdo Clip-In Human Hair Fringe/Bang, $112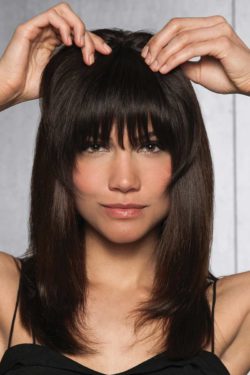 "If most of your thinning is at the front hairline, a large hairpiece will probably be too heavy," says Chung. "The clips anchoring it might even pull out your real hair." Clip-in bangs like these —with longer layers to sweep back and blend with the natural hair—can conceal a receding hairline and thinning at the crown with very little weight and bulk. 
To really make it yours, bring it in to a stylist who is familiar with cutting wigs for a custom fringe. 
Available in 12 shades.
---
Best Turban for Allover Coverage
The House Of Bamboo Shop Turban, $37 
A vintage-style turban is one of the chicest ways to conceal a bad hair day plus completely save yourself the trouble of styling. This one is pre-stitched in place so you don't even have to wrap it yourself—just plop it on like a cap and pretend you're 1960s Elizabeth Taylor. 
---
Best Beret for Crown Coverage
Brixton Audrey Beret, $49
More sophisticated than a baseball cap but less dramatic than a turban, the felt beret may be the best thin hair cover up. It's a stylish hat that provides coverage indoors, outdoors, and with just about any outfit. Can't go wrong with classic black.
Sign up for our free newsletter for more simple solutions to make each day a little bit easier.
All products featured on Mental have been selected independently and editorially. When you buy from our links, we may earn a commission.