Best of Mental Health Awards 2022
Best of Mental Health Awards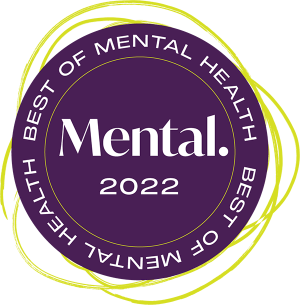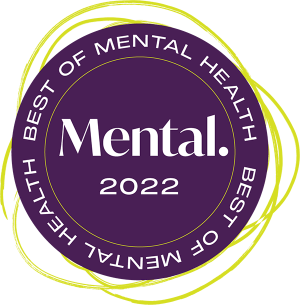 You're probably thinking, Mental Health Awards… Here come the candles, night creams, gratitude sweatshirts, and maybe if we're lucky, a trauma-bonded broken-heart bestie necklace. (Which we actually do want—they're cool!)
But nope. This isn't that kind of awards show. Of the 65 Best of Mental Health 2022 winners, there's not a single candle in the bunch. You've got enough lavender light-up recs to last a lifetime already (and besides, if they aren't made with essential oils, they're probably doing very little for you anyway).
We're here to introduce you to a whole new way of looking at lifestyle products: as mental health management tools.
Blue-light-blocking glasses as no-side-effects support for bipolar disorder.
The right type of journal—one that won't make your trauma worse or overstimulate your ADHD.
Chill-out laptop stickers for when you're clenching your fists (touch 'em—they're bumpy!) or jaw (trace 'em—they're interactive breath work!).
The chicest habit-blocking rings you've ever seen.
A mini diffuser proven to reduce nausea, in case it's an unappetizing side dish to your SSRIs.
The safest, no-sting concealer for raw, just-picked skin.
And a sensory fabric named The Jeffrey, so you'll laugh every time you cry.
At Mental, we don't believe in wellness washing, ascribing panacea-like powers to lipstick, or pretending any single thing can cure stress, anxiety, depression, or any other condition. Products aren't replacements for therapy, medication, or whatever type of treatment you need to truly care for your mental health.
What we do believe is that expert-vetted, study-backed, woman-tested stuff can make your life a little easier and a little less angsty—and maybe even a little happier.
"Wellness products aren't magical solutions, but they can be very practical management tools," says Pooja Lakshmin, M.D., clinical assistant professor of psychiatry at the George Washington University School of Medicine, founder of the women's mental health community Gemma, and author of Real Self-Care: A Transformative Program For Redefining Wellness. "It's important to understand what you're using a product for, because that allows you to develop the expectation of what it can and can't do. A fidget spinner is not going to fix my life, but it might help with my nervous energy when I'm on a Zoom call.
"Mental illness, stress, coping with the world we live in—all of those things are long-standing journeys," Dr. Lakshmin continues. "And here are tools that can help reduce the load of what you're living with."
This year's winners are organized in the ten categories below. Pick, click, and go. Your journey to better mental health just took a fresh new twist. 
—Amy Keller Laird
Our Mental Health Awards Expert Panel
Just as mental health conditions often require the help of a pro, so do mental health-related product picks. Our 17 experts guided the way with smarts, compassion, and one too many late-night emails from us. In the iconic words of Gen Z: #tysm.